A New Home
In this new space, students will embrace the future of business. They'll learn about and prepare to excel in careers that don't even exist yet. It's all about enhancing the student experience for the next generation.
---
With the resounding support of McMaster's leadership, our Board of Governors, and a foundational gift from the McLean family, we will be evolving the scope and practice of business education with a new purpose-built space on McMaster's campus — an addition to the existing footprint of the DeGroote School of Business — to be named the McLean Centre for Collaborative Discovery.
The McLean Centre is symbolic of the values and beliefs held and practiced within the DeGroote School of Business. It will profoundly shape a new culture, an ethos, and an approach to learning. Our vision is to make the McLean Centre the premiere destination for students to discover, learn, and collaborate. We envision incorporating a "know-how" approach through problem-based multi-faculty discovery, enabled by a state-of-the-art learning environment.
Innovation is the guiding philosophy for the McLean Centre for Collaborative Discovery. Faculty and students will study and explore the innovations facing each business sector, how to work within those parameters, and more importantly, how to move beyond them.
The Power of Place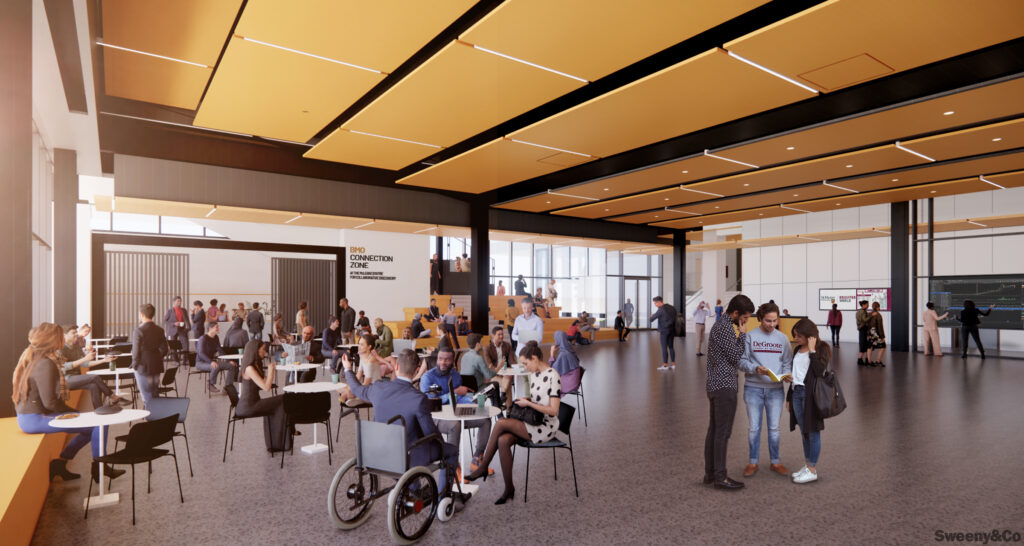 The philosophy guiding the creation of this expansion is that innovation will occur on every floor. The building will be student-friendly, catering to discovery and services students require.
The McLean Centre has ten floors including a welcoming ground floor with a café and light-filled open spaces where students can collide, engage in discussions, and participate in major events. The upper floors will have curated learning "hubs" or "labs" — organized spaces for students, faculty members and business partners to collaborate on solutions for the challenges facing the world of business in the 21st century.
All labs at the McLean Centre for Collaborative Discovery will operate in partnership with each other. We envision a cross-disciplinary approach that will focus on the future of finance, AI, analytics, social impact, and the entrepreneurial mindset. These spaces enhance the opportunity for dynamic and collaborative work to unravel business challenges and seize opportunities in a rapidly changing digital age.
This stunning building will be a real home for our students. Our students will develop soft and hard skills to prepare them to thrive in a world of change, disruption, and uncertainty.
Discovery-Based Learning Hubs
Unequivocally, we know that there will always remain the need for a deep understanding of quantitative skills taught in finance, accounting, operations management, and analytics. However, our students will see challenges and problems through a much broader lens when combining these skills with other disciplines such as economics, health sciences and engineering.
Within this Centre, we will catalyze this unique approach to education through a set of interconnected, networked, curated learning "hubs" or "labs." These will be organized spaces dedicated to supporting students, faculty, and business partners as they collaborate on solutions for the challenges facing the business world. Each will be designed for interactive, interdisciplinary teaching and learning. Students from all faculties will collaboratively engage in problem-based discovery. Activities in a hub will replace some classroom hours to augment core content with a learning-by-doing approach.